Discover more from The Chris Spangle Show
Envisioning an optimistic and prosperous tomorrow through political and cultural action that embraces mercy.
Over 1,000 subscribers
This year I met my goal of 104 books with 27,878 pages read. I read (mostly) nonfiction to increase my knowledge base for various podcasts.
Here are some highlights:
Two a week requires serious dedication. At some point in the morning, I read the Bible and devotionals. I might read a few pages if I have a little lull through my day. Most of my reading comes at bedtime, where I read at least an hour or two from three or four books I am working on. At any given time, I am engaged with many different books. I pick what to read like one might choose a genre of music to suit their mood. Some nights I am ready to tackle the thick, slow, boring book about Japanese politics, and others, I want a light and fun read like Game of Thrones. I don't force myself to pick one and power through in succession. I found this strategy like starting a strict diet where interest wanes out of frustration or boredom. The goal is to build a habit by making reading enjoyable again.
My strategy does include some audiobooks. Most of it came from Kindle reading, but I typically get the audiobook too. Few of the books read came in physical form due to reading in the dark with Kindle. I listen while doing chores, driving or walking. I will highlight in the kindle app ideas that stick out. I then use ReadWise to sync all my highlights and refresh my memory of what I read. There is zero doubt that more material absorption occurs through reading versus listening, but the point is to grab the highlights of a text for later review. This can be done with audiobooks.
I don't think I will ever do 104 again because, at some point, the goal becomes more important than the knowledge. Next year, I will have a goal of 52, but focus more on having an hourly reading goal per day. Admittedly, some easy books are on my list, like gardening, but reading is a reading book. I don't include books that I skimmed.
I began working on this goal in 2018:
I dedicated myself to reading every day then; this was the first year I achieved that goal! I realized I hadn't read in years. I could get in a paragraph or two before getting "bored" (meaning I wanted to look at my phone). I began with ten minutes a day, and eventually, my concentration returned to where it was when I was in school. In 2019, I started working on a podcast called Leaders and Legends, which interviewed the most successful people in Indianapolis. I noticed they all had one thing in common: they were very dedicated readers. It cemented my behavior.
Start a reading habit, and start small. Intellectually, it's benefited my mind the way going to a gym would help my body if I did that (which is next year's goal.)
Follow my reading adventures here: https://www.goodreads.com/user/show/3998486-chris-spangle
This year's books: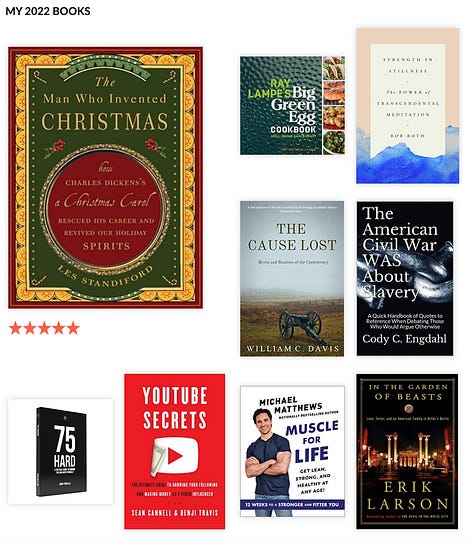 Click Here For More Details on the Titles: https://www.goodreads.com/user/year_in_books/2022/3998486